Meet Dr. Anupama Thapar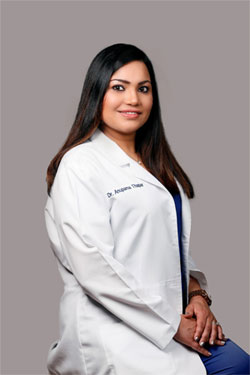 Dr. Ana earned her Doctor of Dental Surgery from the prestigious New York University College of Dentistry with Honors in Aesthetic Dentistry (2011). Previously, Dr. Thapar received her Bachelor of Dental Surgery from Manipal University (2005), a renowned dental school in India and a Master in Public Health degree from Missouri State University (2007). Dr. Thapar chose to make Texas her home and has been practicing dentistry in Corpus Christi. She is very passionate about dentistry and strives to ensure that her patients receive the most comprehensive care by utilizing the latest techniques and technology.
Following her believe in giving back to the community, Dr. Thapar participates in numerous rural outreaches and was nominated as Future Public Health Professional, Springfield, MO (2007), Community Hero Volunteer Springfield (2007).Dr. Thapar is an active member of the American Dental Association, Texas Dental Association, San Antonio District Dental Society and Academy of General Dentistry. During her spare time, she loves to cook, garden and travel. Dr. Thapar and her husband are very excited to call Uvalde their home.